The Journal of the Walters Art Museum
Bringing Art History to Life for the Digital Age
The Journal of the Walters Art Museum is the oldest continuously published scholarly art museum journal in the United States. Its pages are filled with the insights of scholars, art historians, and conservators from around the world — bestowing an enriching glimpse of the art world to the public. After 73 volumes and nearly 100 years, WDG presents a fully digitized Journal.
We helped give the hallowed museum the capacity to publish striking, long-form essays online that bring its exhibit pieces to life. Made possible by WordPress and leveraging the newly released Gutenberg editor, users can now access the story behind the art and artists they love so much.
Challenge
To take a formerly analog publication of a renowned museum into the digital sphere.
Solution
Flex layouts and the Gutenberg in-line editor gave the Walters' staff design autonomy.
Results
A dazzling digital publication that gives access, context and a narrative to art history's masterworks.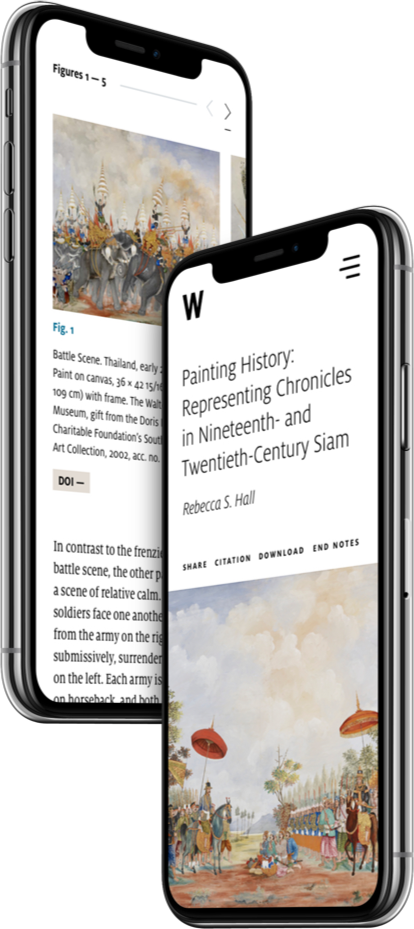 Mobile
Art At Your Fingertips.
We optimized the Journal for mobile to maximize and enhance the user experience. Deep-dives into content with seamless UX is possible whenever and wherever you want your art.
Along with lushly designed text and high-resolution images, audiences are equipped with tools to explore the before-and-after views of paintings that have undergone restoration and animation that demonstrates how raking light reveals textures.

Resources
Painting by Numbers + Authors
Audiences are given full access to the bevy of the Journal's archives of notes, essays and think-pieces — including past volumes. More intuitive search and navigation allow for a full, unfettered exploration of the breadth and depth of the Walters' resources.
The Journal of the Walters Art Museum's mission of democratizing and enriching art history for a new age is admirable and we were honored to help them execute this vision. On our end, we're enthused that this was WDG's first build to feature the new Gutenberg editor.
This project centered around a strategic partnership where we learned just as much from them as they did from us, and hopefully WDG's relationship with the Journal of the Walters Art Museum will be as enduring as their unparalleled collection.
Start a Project
Let WDG Help You
Grow Your Business!
Let's Talk